The year 2021 has come to an end, and what a year it was. Even if there is still a long way to go, the world was in recovery mode. Global Brands and their perspectives on marketing, in general, have been tested and impacted during the last two years. Closer to home, the Marketing Automation industry has grown significantly in response to growing demand from organizations all over the world to automate their marketing operations and improve customer engagement and retention.
In this article, we are going to throw some light on the Top 6 marketing automation trends for 2022. But, before that let's get a quick insight on what is Marketing Automation and why it is going to be important in 2023.
What is Marketing Automation?
Marketing automation is a type of programming that automates the management of advertising activities and campaigns across several channels. Marketing Automation uses programming to do and handle routine promotional tasks without the need for human intervention. Marketing Automation can help small and large businesses achieve their objectives while conserving human and time resources.
Why is Marketing Automation Important?
Marketing Automation reduces the amount of stress you have to deal with regarding
Marketing. Automation makes tasks a breeze like sending tailored emails to hundreds of thousands of customers.
Marketing Automation reduces the need for a large team as a single piece of automation software can accomplish the work of multiple people and produce the same or better results.
Marketing Automation allows you to save time. It assists you in clearing a backlog of mundane chores, freeing up time for you and your employees, and allowing you to focus on more critical tasks.
Marketing Automation facilitates finishing your work in your absence. Even if you're on vacation, your assignment will be completed, and your clients will be satisfied.
What are the major Marketing Automation trends to focus
There are many marketing automation trends that brands, companies, and organizations embrace to make work simpler, faster, and more accessible. Still, our top 6 picks are based on efficiencies, simplicity, and time-saving trends that will undoubtedly help your business flourish with minimal effort.
1. Personalized communication will win the market
Personalization, in general, is becoming more popular as a way to improve consumer satisfaction. But it's not simply the "Hey *insert name*" greeting. Regrettably, this no longer meets the ever-increasing customer demand for a tailored experience.
You leverage their behavioral data, which includes their real-time interactions with your brand, rather than their identities. This is hyper-personalization, which involves sending customized outreach to customers at every level of the funnel based on data segmentation.
For e.g., When your user is discussing or showing interest in pricing, but he/she leave with no transaction. The real-time status-based segmentation will allow you to send a behavior-based SMS or Email that initiates a pricing dialogue where he or she left off.
2. An Automated Lead Follow-up System will be a must
A sales follow-up framework is an interactive system for following and moving leads through the sales cycle. The following are seven methods for making your lead follow-up approach more effective:
Reduce Repetitive Campaign Set-up Tasks with Automated Follow-ups
Segment your Target audience
Be quick with Automated Responses;
Utilize multiple channels to increase response rates;
Customize how you'll follow up through Tailormade Follow-up Strategy
Set up Inbound Campaigns to avoid missing responsive clients
You can do all of this rapidly and effectively utilizing the cutting-edge automated lead follow-up system like FlowUp.
3. Accurate Lead information with DIY CRM integration
A CRM (Customer Relationship Management) tracks the actions of active and potential customers via your Direct outreachs, Email, or website, collects information, and guides each contact along a customer journey, such as sending a prompted SMS or Ringless Voicemails or Email or Just informing an employee of the customer's interest.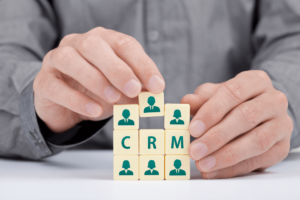 CRM programming enables your team to keep track of your customers' stage in the Sales Funnel Life cycle, inevitably resulting in enhanced customer knowledge and following them based on better-informed understanding about them.
4. Chatbots are going to be the new normal
Computer programs that can have real-time conversations are known as chatbots.
Chatbots have a self-learning feature that helps them better learn and anticipate your client's needs, resulting in increased output for you. And lastly, the capacity of chatbots to handle an infinite number of customer queries gives them an added advantage over manual and human marketing and many more other advantages.
Let's take a look at a few of them
Chatbots eliminate the cost needed in hiring a huge workforce for CRM and still deliver equal or even greater output.
Chatbot software is considerably more accurate than human software at detecting possible leads and assisting your company in generating more leads.
Unlike humans, chatbots can work 24/7, 365 days a year, allowing you to stay in touch with your clients at all times and improving customer satisfaction.
5. Leveraging Social Media & Paid Marketing Campaign.
Paid social media campaigning is a method of displaying advertising or sponsored marketing messages on social media platforms to reach a certain sub-audience.
Social media automation involves using automated techniques to improve social interactions. Pre-planning social media posts or republishing popular content are examples of this. By automating social media posting, engagement, and management, time spent maintaining and increasing brand accounts is decreased.
6. Cross Channel Marketing Communication is going to broaden the outreach.
Cross-channel marketing simply means a company communicating with customers over various channels, including Email, SMS, Ringless Voicemails, Voice announcements, Surveys, and more. Cross-channel marketing allows you to send marketing messages to customers based on where they are in their journey. This improves the user's overall experience. Cross-channel marketing that is effective can build a thread of messages from multiple channels while still conveying the same message.
The objective behind integrated cross-channel marketing is to provide clie
nts with a consistent experience across various communication platforms.
The six trends discussed above are the current and most efficient marketing automation strategies. But taking a step further, let's look together at what Marketing Automation in the nearest future will be like and how you can use it to boost your business productivity.
Artificial Intelligence and Machine Learning – The Definite Future of Marketing
Artificial intelligence is the most discussed topic among business users looking to increase efficiency and generate new ideas. The AI chatbot can learn from conversations thanks to this intelligence. Artificial intelligence (AI) and natural language processing (NLP), which have become increasingly popular in recent years, power chatbots. They've evolved into sophisticated tools for automating a variety of commercial activities. It's unique in that it may assist you in engaging customers and retaining them.
Artificial intelligence (AI) and machine learning will be unavoidable in the next wave of cross-channel marketing. The ability to better anticipate and respond to clients in real-time will be vital.
Frequently Asked Questions
1. Why use Marketing Automation for your Business?
Marketing Automation can pull you off from doing repetitive tasks that eat your time and energy as it's completely automated when designed once to follow. It is efficient and saves time. What more could your company require to boost productivity? It's less expensive, more error-free, and operates around the clock to ensure you're always in touch with your consumers and providing them with what they require.
2. How effective is Marketing Automation?
Marketing Automation creates more leads, conversions, and sales. Automation has resulted in higher leads and revenue and a significantly substantial improvement in sales productivity, customer satisfaction, and a massive reduction in marketing overheads for businesses that adopt it. Marketing automation enables businesses to deliver personalized experiences for maximum customer satisfaction.
Quick Takeaway:
Marketing Automation is the most effective and straightforward method for keeping your brand and organization current in today's fast-paced industry. Automation has a lot of benefits.
For marketing professionals, greater efficiency, cost savings, enhanced productivity, more insightful analytic data, and better customer care are all appealing. connect with us at help@flowup.com and get more insight into how Marketing automation can help you fast-track your lead follow-ups and customer satisfaction,