The heart of e-commerce business lies in managing customer relationships. The eCommerce customer life cycle is composed of several stages from customer engagement with the product or service to actually purchasing it. Engaging with customers at every stage of this lifecycle is very important if you want to reach out to your customer's exact needs. To find success, e-commerce merchants must hail toward customer life cycle marketing. It is not only beneficial for e-commerce business owners to target their customers, but it is also fruitful for customers' smooth and personalized experience.
To enrich customer satisfaction, every e-commerce business should have a promotional campaign that may target potential consumers through continual follow-ups, ongoing offers on the products they reviewed, and the launching of personalized workflows. By keeping consumers delighted throughout their customer life cycle, such a strategy may boost productivity and sales in the e-commerce sector.
What is Marketing Automation for eCommerce business?
Marketing automation assists you in identifying new clients and automating the process of nurturing those leads to the point where they are ready to be sold. It automates steps that get prospects to the stage where they may be engaged directly by the sales team with the goal of making a deal and beginning a long-term relationship, and the data it collects can help you decide which marketing approaches to use. Marketing automation does this by dramatically increasing the productivity of your sales funnel, allowing you to swiftly convert a large number of leads into satisfied customers using a variety of approaches.
According to latest reports, it is seen that 75% of companies has already started adopting marketing automation technology and witnessed massive increase on their sales revenue.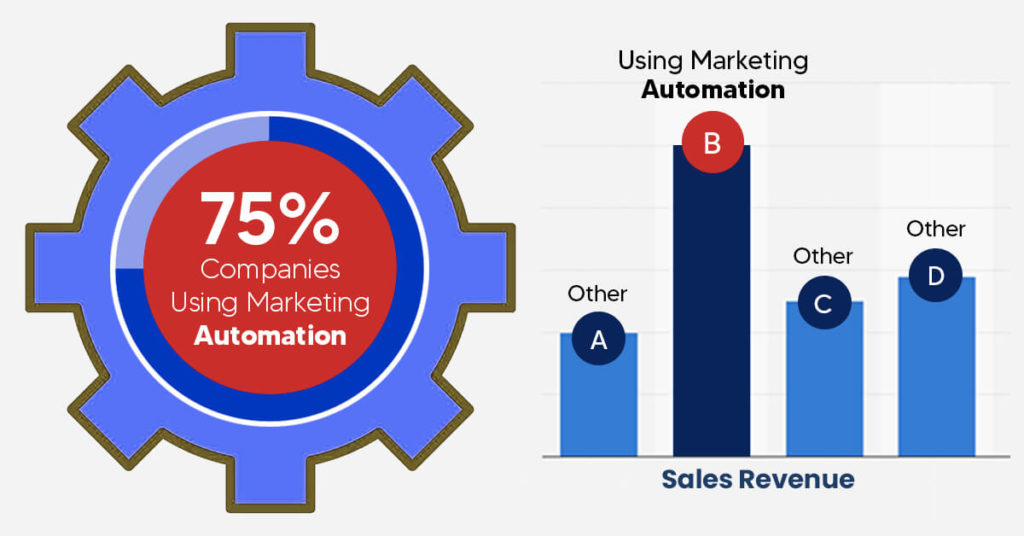 A deep dive into Marketing Automation and its upper hand in e-commerce industry:
Marketing automation can help increase sales by converting potential leads into satisfied customers. Marketing and sales automation can be a formidable tool in your armory. The potential for business development and long-term profit improvements are infinite with the ability to segment lists based on customer history, send automatic follow-ups for leads and bids, target prior customers with targeted messages, and much more. When marketing automation is carefully integrated, it offers a fertile basis for building strong, long-term customer relationships.
It is observed that an average of 69% of e-commerce carts are abandoned by users.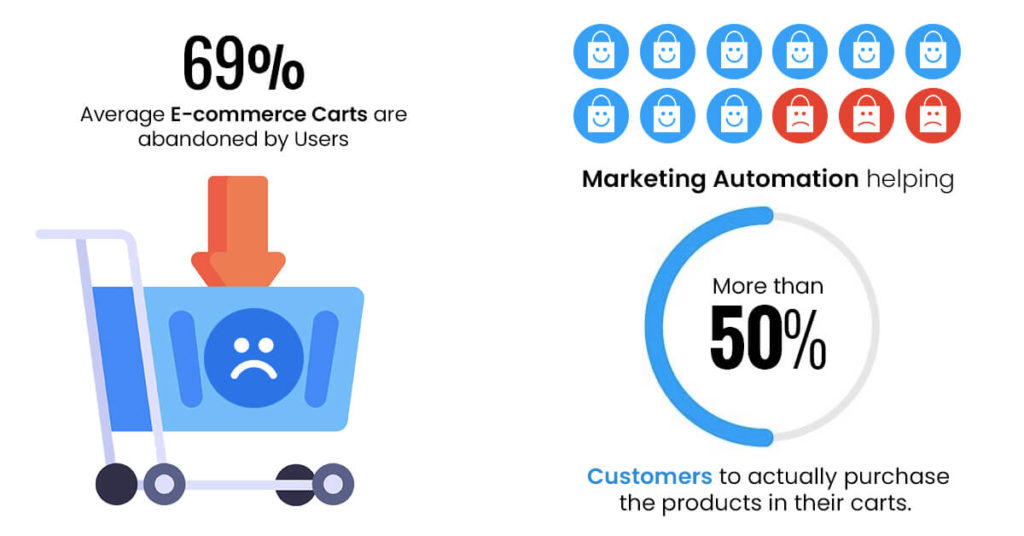 In this scenario, marketing automation can give a helping hand by sending automated cart abandoned notifications to users which can lead more than 50% of customers to actually purchase the products in their carts.
1. FollowUp with email
Sending Cross-sell and up-sell emails to follow up customers with similar items. For example: Customers who order a pair of shoes receive cross-sell emails for buying a pair of socks or a customer who orders a small bottle of shampoo gets an up-sell email or SMS or voice mail regarding offers and saving related to the bigger bottle of the same shampoo.
2. Abandoned cart recovery email
Abandoned cart recovery email to follow up with registered users while they move away without checking out their cart. They receive email or SMS or voice mail reminding them to purchase an item waiting to be checked out in their carts.
3. Promotional offers
Promotional offers notification to let the customer know about ongoing offers or sales on various products relating to their wishlist or cart products.
4. Customer loyalty programs
Customer loyalty programs to keep loyal (frequently ordering customer) customers stay tuned and interested in the company.
For example: sending a limited-time discount coupon code on a customer's birthday or sending a gift card after a significant amount of purchases.
5. First purchase offers
First purchase offers to motivate a customer to purchase any product by giving them some first order discount offers.
6. Product Update
Product updates regarding the latest offers on products that are viewed by potential customers.
For example: A consumer is alerted when the price of a relevant product drops or when it is about to run out of stock, in order to encourage them to acquire that product right away.
FlowUp- the best tool for e-commerce marketing automation!
Follow-up automation can help you keep the discussion going. Your team will never miss a communication, thanks to configurable workflows and always-on autoresponders. FlowUp automates the follow-up process across several platforms.
Improve response rates and sales by following up with prospects via voice, ringless voicemail, and SMS. It provides automated personalized workflows. FlowUp is a marketing automation software tool that handles tasks 24/7 and automizes follow-ups that can boost productivity and sales. FlowUp is a marketing automation tool that uses more than one technique to reach out to customers, called multi-channel marketing.
Multi-channel marketing has 37% more response rate than single-channel marketing techniques.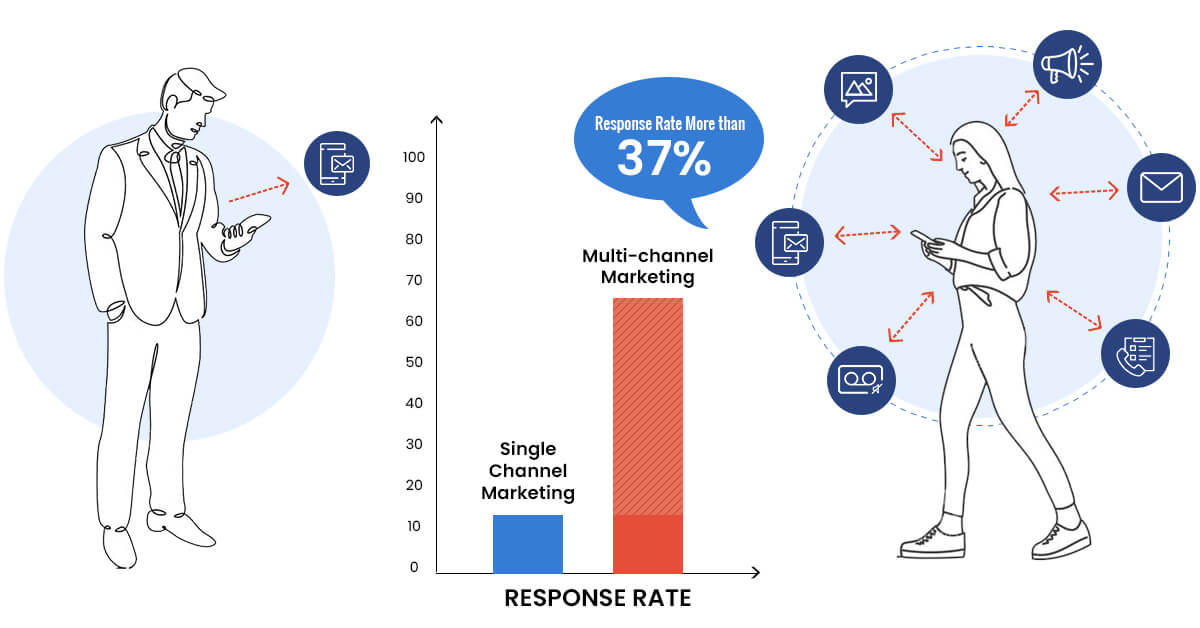 For a smooth customer journey, engage in frictionless communication with FlowUp. It helps engage customers and keep them happy and satisfied throughout their e-commerce customer life cycle. In a nutshell, FlowUp can be the best helping hand in providing customer satisfaction through a seamless customer engagement lifecycle.
On a final note:
Marketing automation is the technology that can catapult your company into a new era of relationship-based marketing with measurable outcomes. Your organization will quickly find itself on a path to new heights of profitable growth when strong technology meets excellent implementation and internal process management.
Marketing automation tools can be used to analyze product performance and identify cross-sell products, promotional offers, and future sale products and therefore keeps customers satisfied throughout e-commerce customer life cycle.
To explore the most suitable marketing tool for all your needs, connect with flowUp at help@flowup.com or schedule a demo call today.