Marketing Automation has become a necessity for any business that wants to keep up with the modern, fast-paced world we now live in. It saves time, costs, and energy that manual marketing would require. But it's one thing to automate your marketing system, and It's another thing to use the best available automation tools for marketing your products/services and give your business and customers the best experience possible.
Are you about to start searching for the best marketing automation tools?
Well, don't, because we have compiled a list of the 10 best and most reliable marketing automation tools. You don't need to start frantically searching for and comparing the best marketing automation tools out there. Read along with us and improve your marketing automation experience.
List of Marketing Automation Tools to Sky-rocket your Automated Follow-ups
1. OmniSend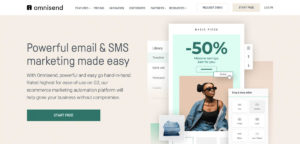 Being the first on this list is not a coincidence. OmniSend is a feature-rich tool with a lot of functionality. Among its competitors, OmniSend distinguishes itself, thanks to its omnichannel feature, allowing you to combine many channels into a single workflow.
Omnisend is a marketing automation tool worth investigating with some of the key features as below:
Robust Targeting
Split Automation
Easy Drag-and-Drop builder
2. Hubspot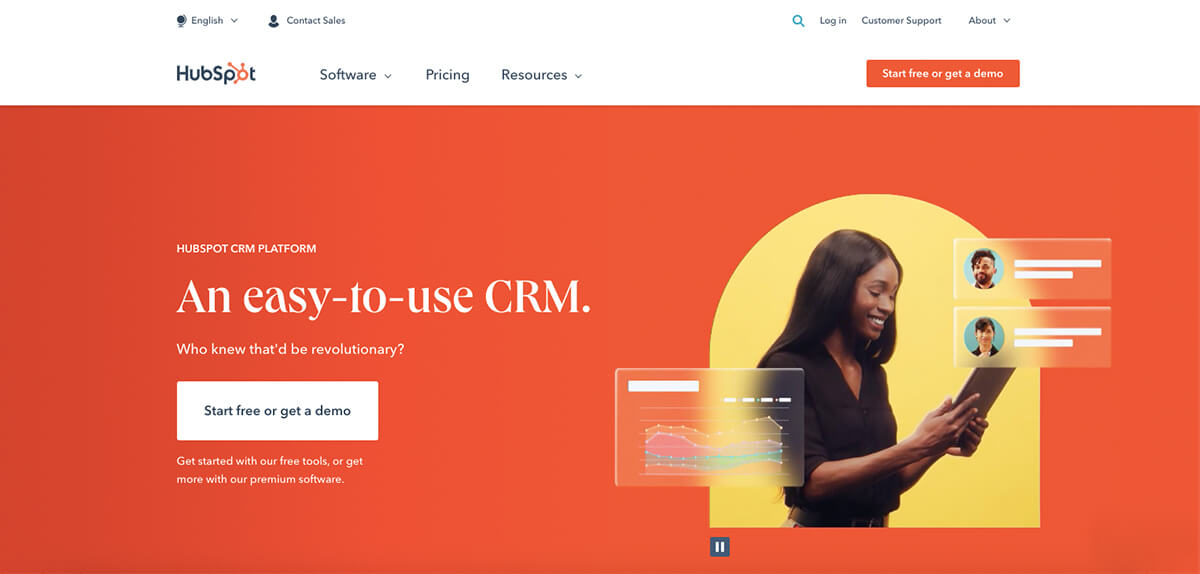 If you have a small or medium-sized business, then Hubspot will do you just fine! Hubspot is an inbound marketing software (with content and search marketing). It is both time-efficient and very effective in launching marketing campaigns.
With Hubspot, you get several marketing tools for various marketing systems like:
Web Analytics
Landing Page
Social Media Marketing
Search Engine Optimization
Content Management
3. FlowUp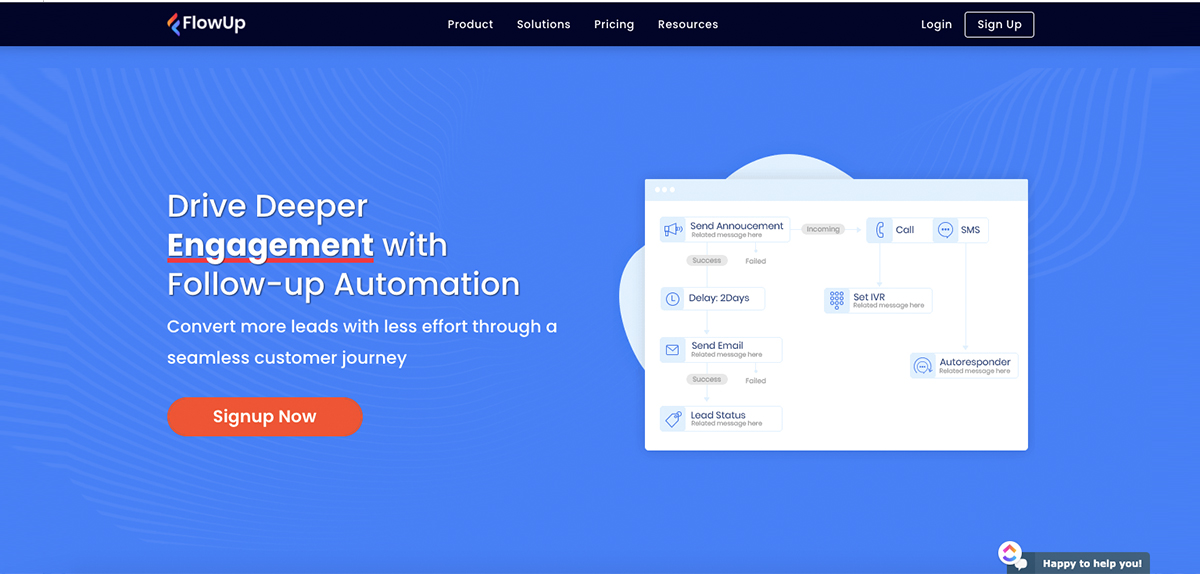 FlowUp is a Voice, Email, and SMS-powered Omnichannel Automated Lead Follow-up System that lets you keep track of your follow-ups and push your sales to funnel to the next level. You may create your own outbound follow-up approach with FlowUp and stay in touch with your leads all the time with a well-designed inbound strategy that includes Transfer calls, Auto-responders, and Conversational Bots.
Let's take a look at Key Differentiators that makes FlowUp special among the whole list of Marketing Automation tools.
More channels like no one else (Calls, SMS, MMS, Emails, Surveys, Press 1 campaigns, and more)
Segmentation based on Lead's Status
Local Presence with Local Caller IDs
Lead Filters
Manage your Absence with Scheduled Campaigns
Smart Inbound Management with Unique Inbound Flow Creation
The Rarest USP is Live Chat and Call Support
With Endless Uniqueness, FlowUp helps you stay on top of your follow-up.
4. Customer.io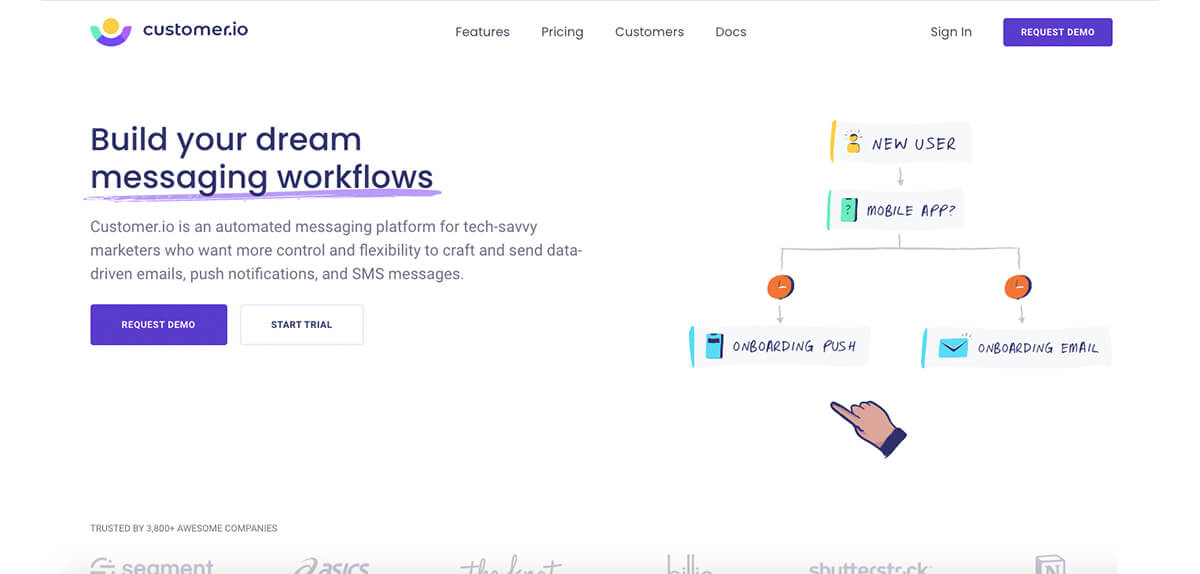 Has your business been lagging when it comes to customer engagement? If yes, customer.io will switch things up for you.
Customer.io's email automation solution is uniquely designed for subscription-based businesses, and its primary focus is on keeping customers engaged throughout the customer lifecycle.
Some important features are:
Build Customized Creative Workflows
CRM Integration
User-based Segmentation
Target Ad run on Segmented Data
Personalized Messaging, etc.,
5. Drip.com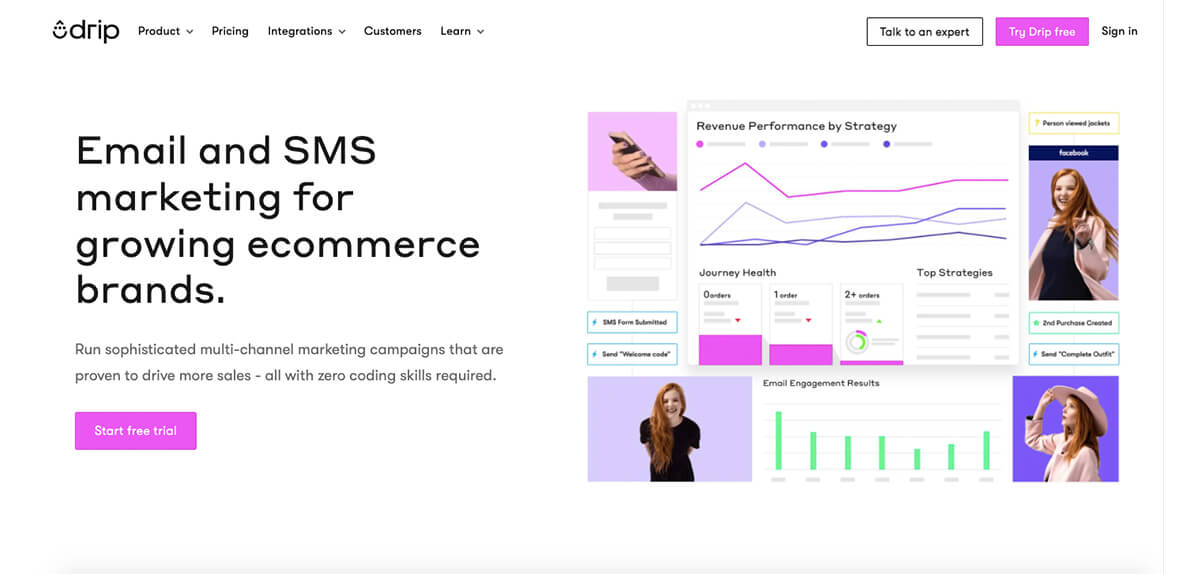 Drip's email marketing automation is tailored to eCommerce businesses, so it interacts seamlessly with all of your existing eCommerce platforms. You may create customized content and automate campaigns based on customer behavior. Not only that but there's more! Drip goes beyond email automation to ensure that all of your content is consistent and works together to entice them to buy. There are no errors, mix-ups, or typos with drip; you receive content consistency.
Some important features of Drip.com are:
Multichannel Campaigns with Email and SMS
Segmentation and Personalization
Easy to Integrate with E-commerce and other Sales CRM tools
6. WebEngage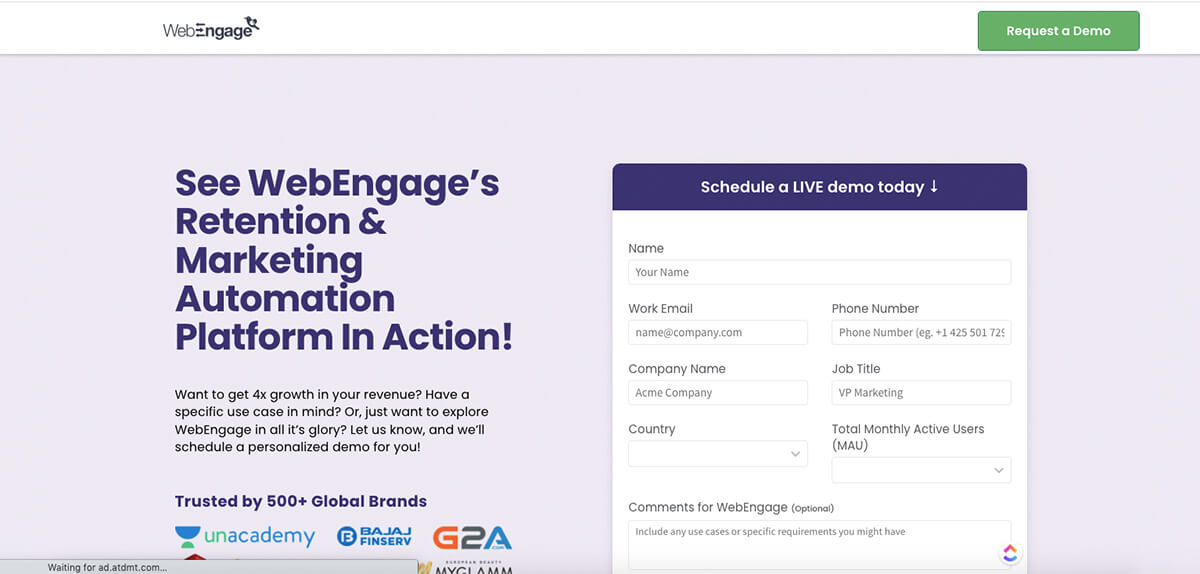 WebEngage is for consumer tech startups and even small businesses. WebEngage serves as both a customer data platform and a marketing automation package. Its key selling feature is that it makes user engagement and retention simple, effective, and successful. The dashboard is used to construct simple user lifecycle journeys that convert existing consumers across multiple channels using effective data-driven and timely marketing. With these impressive features, it's no wonder that thousands of product and marketing professionals rely on WebEngage.
The key benefits of WebEngage are as below:
Campaign Management
Segmentation
Cross channel customer journey builder
Campaign A/B testing
Campaign Analytics and reporting
Advanced customer segmentation
Content personalization
Behavioral targeting
7. EngageBay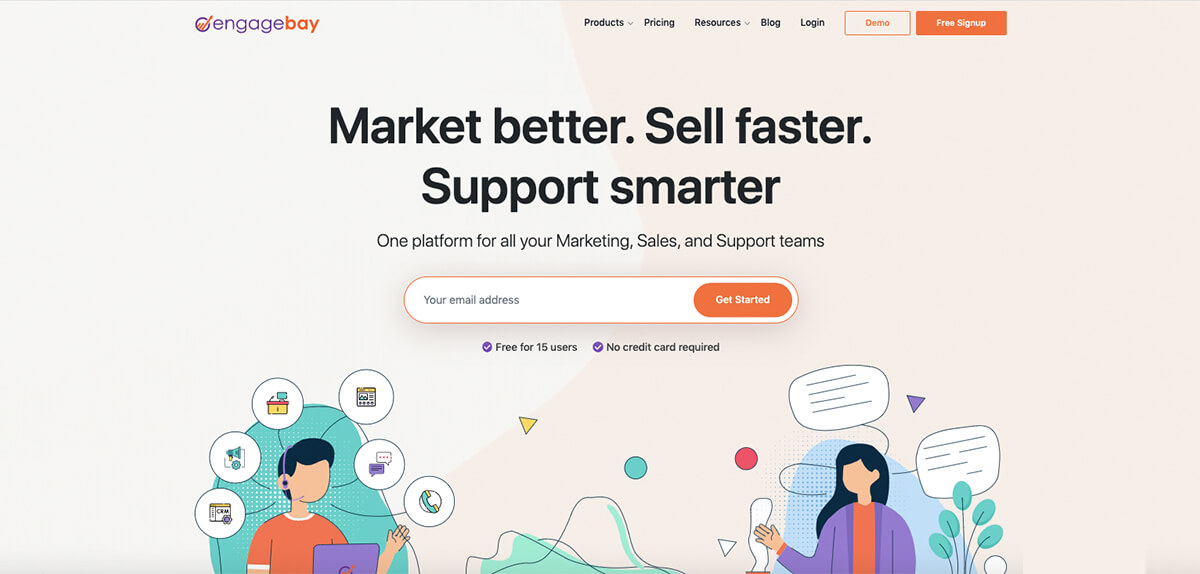 EngageBay is the world's most cost-effective marketing, sales, and customer service CRM software. EngageBay helps businesses attract, engage, nurture, and convert site visitors into happy customers, allowing them to grow their business at an astonishing rate.
The Key features of EngageBay are:
AB Testing
API
Access Controls/Permissions
Account Alerts
Account Management
Activity Dashboard
Activity Tracking
8. GetResponse.com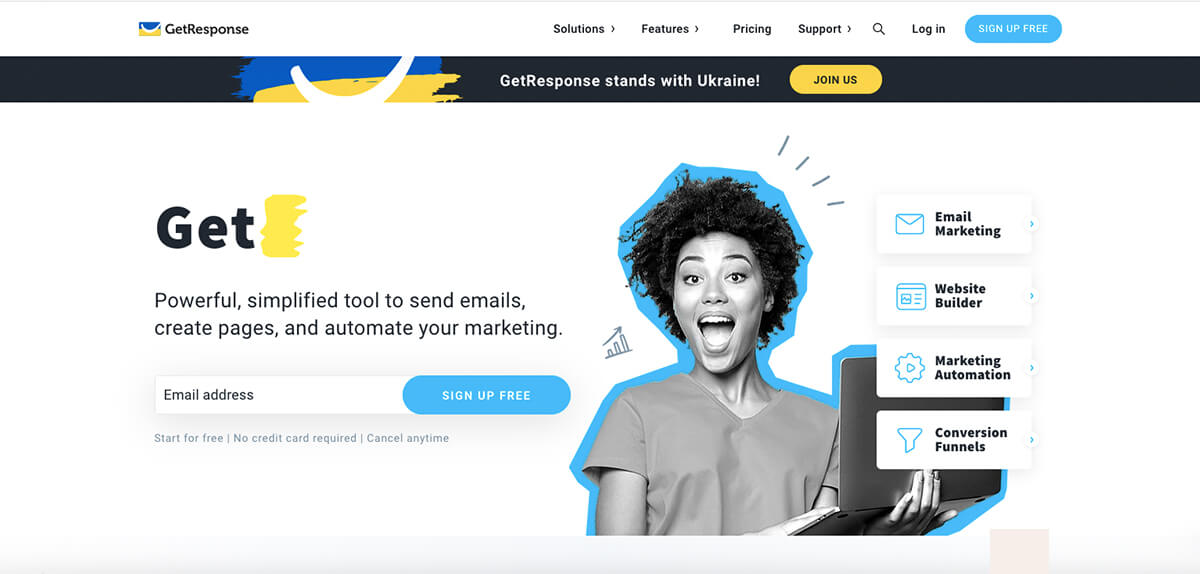 GetResponse is a helpful email marketing software that focuses on providing accessible and robust solutions to small and large businesses. GetResponse email marketing includes a landing page and an auto-responder. It tracks the customer's website visits purchase data and uses its built-in e-commerce features. It uses customer behavior to create events like Clicked, Purchased, and Cart Abandoned. It's beneficial to monitor customer behavior and ultimately helps you determine what your customer wants.
The Key Features of GetResponse.com are:
Campaign Management
Activity Dashboard
Third-Party Integrations
Customizable Templates
Campaign Analytics
9. Salesloft.com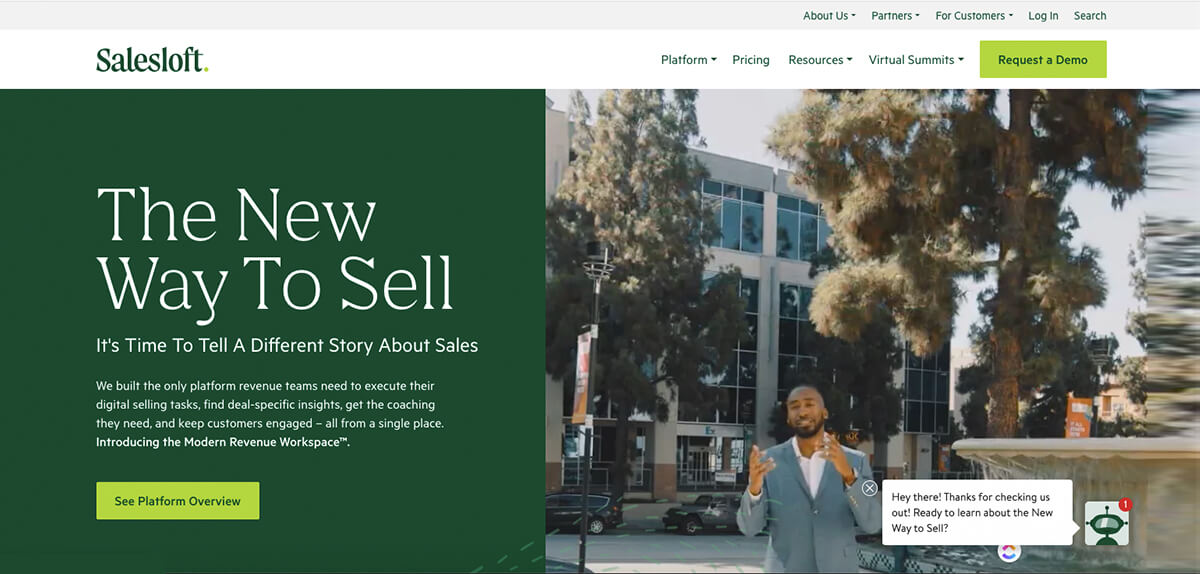 SalesLoft is an engagement platform that integrates with a company's new or existing CRM to assist salespeople in managing and prioritizing their tasks. A salesperson can use the platform to build up automated email cadences for their customers and pull marketing content from the HighSpot sales enablement platform.
Some of the Key Features of the platform include:
Third-Party Integrations
Lead Management
Reporting/Analytics
Collaboration Tools
Performance Metrics
Lead Capture
Workflow Management
10. Moosend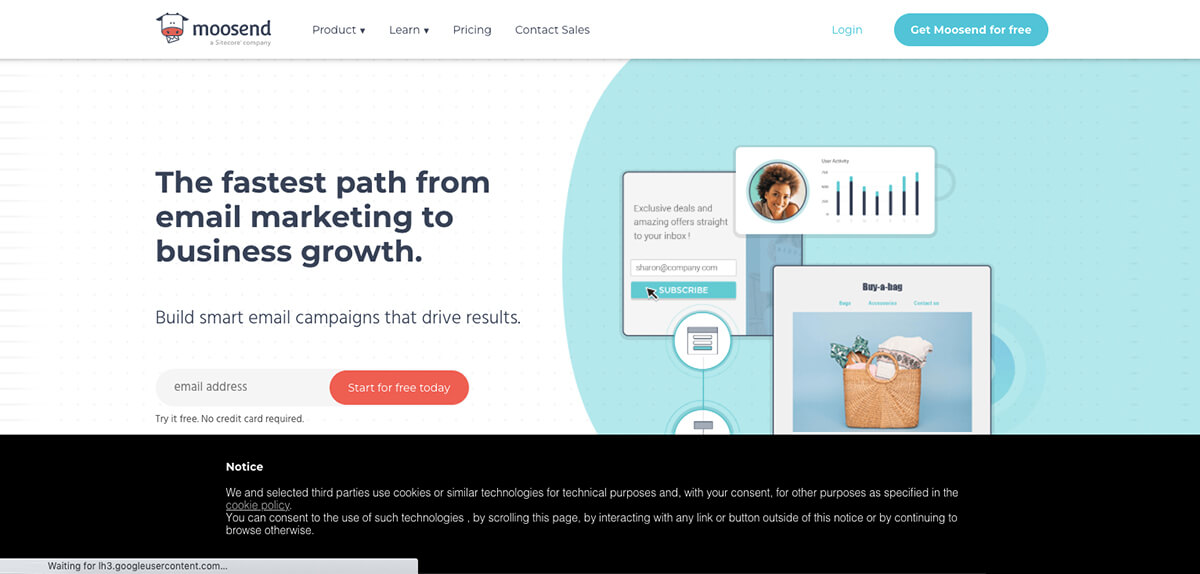 This is the last on our list, but it's undoubtedly not the least on it. Moonsend includes features that will help you automate your efforts and increase lead production without much stress. It has an advanced workflow builder, pre-made email newsletter templates, landing pages, and forms. With tools like email marketing campaigns, you can grow your list, segment your audience for better targeting, and track crucial metrics to monitor your success.
Key features from the bundle include:
Campaign Management
Third-Party Integrations
Data Import/Export
Customizable Templates
Customizable Branding
Template Management
Try FlowUp Now..!!! – Automate Your Marketing With The Best
You may have been using a manual marketing system or have even begun automating your marketing, but automating your marketing isn't enough; you must also employ the best technologies to provide the best experience for your business or corporation and your clients. Any marketing techniques we've described above will give you and your consumers a terrific experience; your company and your customers both deserve the best, so use the best and change your marketing automation game today. Connect with our MarTech genius today at help@flowup.com and begin your Marketing Automation Voyage today with FlowUp.