Follow-ups are a marketer's friend and foe at the same time. Without follow-ups, there would be less brand recall, fewer sales, and weaker customer relationships.
But let's be honest — follow-ups are incredibly time-consuming. Who has the time to follow up with every single interaction? And it's not just the time it takes to follow up — it's the time it takes to remember, schedule, and write these follow-ups.
In this post, we'll dig into what makes follow-ups challenging and how automated follow-ups can save you endless time and effort.
Why Follow-Ups Are Challenging?
It doesn't matter how good your initial pitch went or how clever your advertising copy was — consumers have short memories and need to be reminded to take action. A strong follow-up strategy is key to sales and marketing success.
In fact, nearly 80% of sales leads require at least five follow-ups after initial contact.
If that seems like a lot of work, that's because it is! With persistence being key to closing sales, don't lose hope after just a few follow-ups.
Even though multiple follow-ups are essential to closing a sale, it's a little more nuanced than just checking in a few times after the initial interaction. If you check in too often, you'll be a pest. If you check in too late, you'll seem aloof — or worse, you'll have missed the window of opportunity. To stay relevant but not pesky, treat your leads as you would any other relationship in your life, which means personalizing your communications. Ask prospects their preferred way to be reached, and create action items with timelines in your initial contact.
Long story short: Treat people like people.
Simple enough, right?
But what happens when you have countless leads you are trying to follow up with simultaneously, all with different needs and preferences?
To avoid missing out on potential sales or getting bogged down with follow-ups each day, it may be time to look into automated follow-ups.
How Automated Follow-Up Campaigns Can Help You?
Following up with prospects is a task that can easily fall through the cracks on a day-to-day basis, and businesses often give up on prospects after one or two follow-ups simply because of the time it takes! Not to mention that without efficient marketing automation systems, manually tracking leads can become confusing and difficult to keep up with.
By investing in follow-up automation, you are able to create multi-channel campaigns that provide value to prospects and seamlessly integrate with your other marketing efforts. These campaigns can then be personalized based on the information you receive from prospects, nurturing leads until they are ready to purchase!
Not only will an automation system help you follow up with new leads, but when combined with an existing CRM, marketing automation systems will track and capture all interactions you (and your team) have with a lead to paint a comprehensive picture of your consumer relationship. Further, these insights allow for scoring of leads to let you know which ones are ideal for follow-up contact at any given time.
Relax for the Whole Week with FlowUp's Automated Campaigns
Are you ready to take your marketing communications to the next level and close more leads while still being able to relax?
FlowUp's automated campaigns can be activated within an hour, giving you valuable time back without losing out on potential sales!
1. Create Customized Workflows
FlowUp allows you to customize campaigns every step of the way, ensuring you reach each target customer according to their individual preference. Design a custom workflow for outreach with multiple paths and scenarios for consumers to follow, triggered by their interactions with you. Leads and their interactions are tracked in real-time, meaning you'll always have insight into what works and what doesn't
2. Automate Multiple Touchpoints
There is no "one size fits all" approach to engaging leads, which is why it is important to create multiple touchpoints across various channels. FlowUp allows you to automate follow-ups with voice, SMS, email, and more.
3. Set Up Automatic Delays Between Touchpoints
Never miss a follow-up communication with leads through FlowUp's automatic delays between touchpoints. Communications are not only delayed automatically based on a lead's interactions with previous communications but are individualized through consumer segmentation to ensure you are reaching your target audience through the channels they check the most!
4. Create Inbound Flow to Automate the Conversation
FlowUp's auto-responder capabilities allow you to take the time off that you deserve without missing out on opportunities! Respond to consumer inquiries during off-hours by enabling a personalized auto-response that emulates human connection. If more individualized attention is needed, instantly direct leads from automated communication to your designated sales team.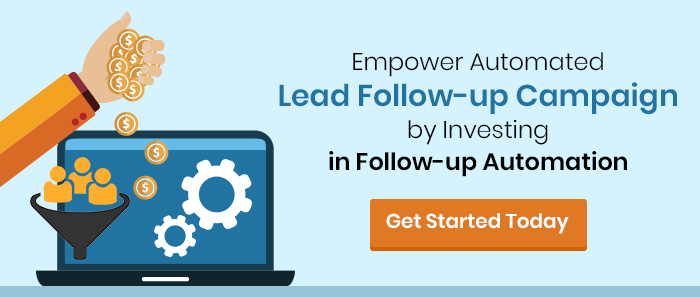 5. Schedule Campaigns on Your Time
Campaigns can be activated automatically and scheduled on specific days. This way, you can create touchpoints every day of the week without having to manually reach out.
Doesn't that sound like a better approach to traditional follow-ups?
FlowUp's platform is easy to use and completely customizable. To see the platform in action, request a free demo today!