As technologies advance, the number of available marketing channels continues to grow. On top of that, each individual consumer has personal preferences on how and when they like to be contacted. Even with lead segmentation and a strong marketing strategy, a firm understanding of your consumers' daily routines can be tricky. Without this knowledge, they may never actually see your communications!
Like all of us, your ideal consumers each have their own daily routines and habits. Some hop on their email first thing in the morning, while others may prefer catching up on communications via text during their lunch break. All of these behaviors can drastically affect the way that leads may (or may not) interact with your brand.
In order to optimize your communication strategy for the best results, it's important to understand and activate both at the best time and on the best channel.
Identifying the Best Time to Reach Out
Do you ever end up losing track of communications in your email? Or forget to respond to a text after promising yourself you'll 'go back to it later? With so many communications sent to consumers all day every day, it's understandable that follow-ups sent at non-ideal times often get lost!
As marketers, it is important to identify the best time to reach out to consumers on an individual basis to ensure the greatest chance of not only response but engagement.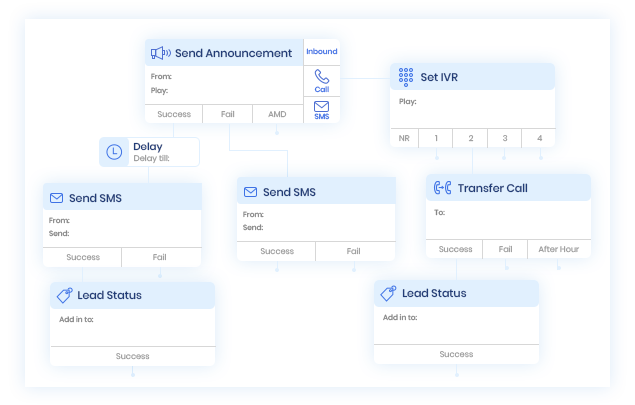 So, how do you determine the ideal time for communication with each and every one of your leads?
Answer the following questions before you decide the when factor:
Is there Enough Breathing space between two touch-bases in your strategy
Have you understood the customer response pattern?
Do you choose the most responsive time slot with the Trial and Error method?
Do different channels have been tested on different responsiveness at different times during the day?
Consumer behavior data is key. A full understanding of each lead's behaviors, habits, and routines is critical to efficient and effective marketing communications.
But how do you keep up with follow-up communications on such a personalized basis?
How can FlowUp be the savior?
Automated omnichannel communication systems, like FlowUp, allow you to engage leads based on times at which they most often interact with your communications.
After setting up your customized workflow with FlowUp;
It segments leads based on
– timezone,
– Geographic location,
– demographic data
– Lead's Status
It ensures your communications are seen and you can close the deal faster. Automatic response options can be triggered
It makes sure that you won't miss out on sales even if you're off the clock.
Reaching Out on Your Lead's Preferred Channel
There are countless communication channels that can be used by marketers to inform and engage leads throughout the sales process. While multiple touchpoints with consumers are often needed to make a sale, bombarding leads with the same information on every channel can easily become overwhelming and annoying to potential consumers.
What Marketers should do then?
Instead, marketers should use consumer behavior insights to determine each lead's preferred method of communication, tailoring all marketing to said preferences.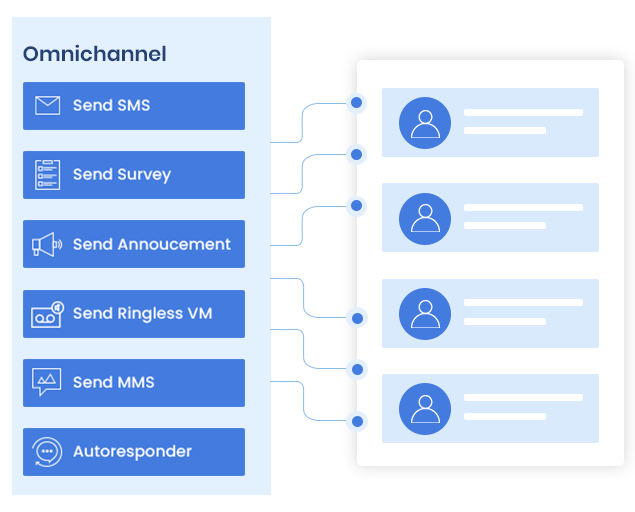 How can FlowUp be the Solution?
FlowUp allows for lead tracking throughout the sales journey.
FlowUp also has smart opt-in and opt-out management, ensuring your leads are always contacted on their preferred channels.
Choose between SMS, Ringless voicemail, Announcements and Surveys, Email, and more.
Every communication sent has the same key brand elements in place, increasing brand recognition and appreciation, but with a tailored communication channel strategy.
This customization fosters a close relationship with the consumer while increasing consumer loyalty.
Benefits of Automated Omnichannel Communication
Customization has become the key to effective marketing communications. Without an integrated communication platform like FlowUp, the process of customizing communications for each of your leads would be intimidating, time-consuming, and nearly impossible. By implementing an automated omnichannel communication strategy:
Consumers will build long-term loyalty to your brand, feeling as though you are tailoring your communications to their preferences on a continuous basis.
More efficiency can be achieved, saving your team time without sacrificing the quality of follow-ups.
Drive deeper engagement with existing consumers through automated triggers and a seamless customer journey.
Not using FlowUp yet? Schedule a demo with us today to start streamlining your communication strategy and increasing sales.